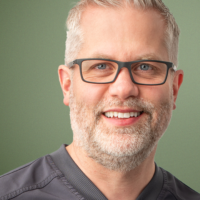 A Minnesota native, Dr. Thimjon graduated from Bethel College with a degree in Biology and then went on to earn his dental degree from the University of Minnesota School of Dentistry.
Prior to entering the dental profession, Dr. Thimjon spent twelve years in a successful business career, primarily in the field of health care. He participated in several mission opportunities to the country of Haiti. He believes strongly these experiences have positively shaped his practice philosophy. Dr. Thimjon is focused on providing quality dental care in a conservative, kind and empathetic manner. He loves to educate and help patients make the best decision for their individual needs. It is always his goal that patients have a positive dental experience.
Dr. Thimjon remains an active member of various professional organizations and is committed to expanding his knowledge through continuing education. He continues to have a strong interest in dental service missions, specifically to the country of Haiti – the birthplace of his two adopted children. Having one child who is Deaf, keeps him and his family busy learning American Sign Language. When not in the office, Dr. Thimjon enjoys experiencing good food, architecture, the arts, and traveling to the family cabin in Wisconsin.